141124 Monday – "Sickle and Hammer"
Katie and Alex warming up with a Wall Ball
---
Mobility: None, but work on your ankle to help out your squat.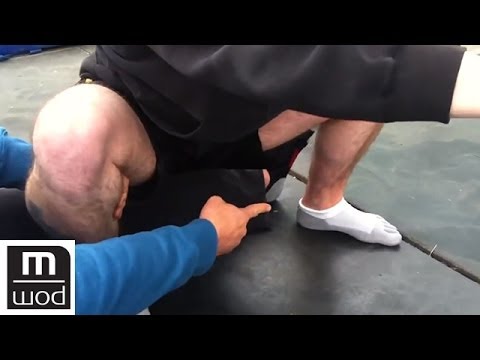 Check out the toe socks.
---
Skill Practice Warm Up:  Goat practice.
---
Workout:  Front Box Squat
7 x 1 (7 sets of 1 rep "across," using the same weight each set)
This is the first day of our new strength cycle. Be aware these will be (and should be) much less weight than a regular front squat. The 7 reps should be fairly "easy." Start around 50 – 60% of your 1 rep max Front Squat (We did this last Monday, check your BTWB HERE.) The goal should be to add 5 – 10 lbs per week.
Super Set With: 5 'Perfect' Push Ups in between each set of Front Box Squats (Replace Knee Push Ups with a Ring Push Up at an angle).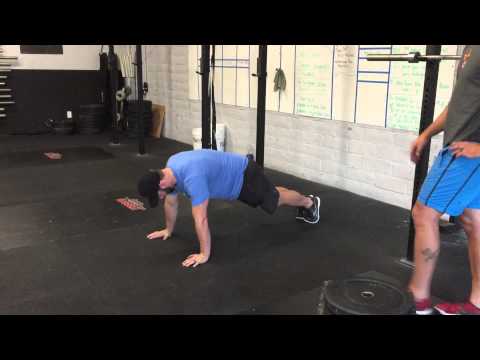 ---
Metabolic Conditioning Workout:  "Sickle and Hammer" – As many rounds as possible in 7 minutes.
8 hang power snatches (Advanced: 95lbs, Intermediate*: 63lbs, Novice: 45lbs)
16 wall ball (Advanced: 20lb/10ft, Intermediate*: 14lb/10ft, Novice: 10lb/8ft)
Scaling Guide: 3 – 6 rounds
*Women's "As Prescribed" weights and reps (Rx), really try and do the 10' target if you can!
Log your results online by clicking here.
Compare To:  2013 – 02 – 27
---
'Optional' Cash Out: None