141201 Monday – "Mason 'The Line' Dixon"
Keri jumping high with her Double Unders.
---
Mobility:  Hip Mobility.
---
Skill Practice Warm Up:  None.
---
Workout:  Front Box Squat
5 x 3 (5 sets of 3 reps "across," the same weight for all sets)
5 sets of 3 reps, same weight as Monday for the sets across. Try and remember what height box you used Monday or Friday and use the same one for at least first week before re-evaluating.
Super Set: Perfect Push ups
5 x 5 (5 sets of 5 reps)
Same reps as last time. Really work to make these reps "perfect" before going up in reps or scaling the movement up. Check out the videos from last Monday for information on this movement. If you guys are feeling really confident that your reps are perfect feel free to go up a few reps. (5 x 5 – 8)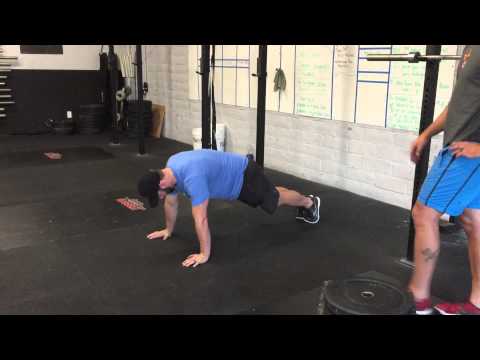 Metabolic Conditioning Workout:  "Mason 'The Line' Dixon" – As many rounds as possible in 8 minutes.
40 double unders or 100 single unders (Both are Rx!)
40′ dumbbell walking lunge (Advanced: 30lbs, Intermediate*: 20lbs, Novice: none)
Ring dips (Advanced: 8 reps, Intermediate*: 4 reps, Novice: 4 reps push ups)
*Women's "As Prescribed" weights and reps (Rx)
Scaling Guide:  4 – 8 rounds.
Coaching Tips: Both double unders and single unders are Rx. The dumbbell walking lunge is one dumbbell in each hand. If ring dips are difficult for you pace those out. Don't go to failure, they will be hard to get back. If you choose to do ring dips try and stick with them for whole workout (no going back down to push ups), even if you have to do singles, they are still pretty fast. To keep your shoulders in good position, make sure your hip level is going up and down with the dip and that you aren't just leaning forward to touch your biceps to the ring.
Log your results online by clicking here.
Compare To:  New Workout!
---
Cash out: 15 wall ball, 200m run, 5 minutes.