141208 Monday – "Before These Crowded Streets"
Coach Nick leading the Hungry Hippo Warm up game.
---
Mobility:  Hip Mobility.
---
Skill Practice Warm Up:  None.
---
Workout:  Front Box Squat
6 x 2 (6 sets of 2 reps "across," the same weight for all sets)
This is the 5th session of the Front Box Squat cycle, add 5 to 10 lbs from what you used last week, or same weight as you did on Fridays singles.
Super Set: Perfect Push ups
5 – 10 reps in between each of your 6 sets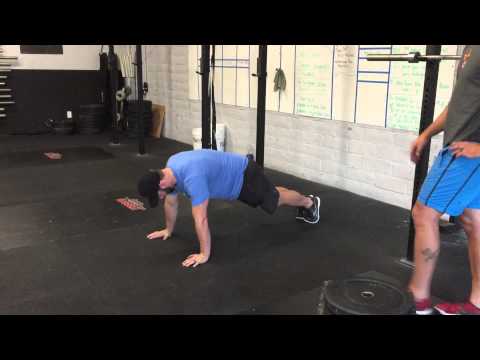 ---
Metabolic Conditioning Workout:  "Before These Crowded Streets" – As many rounds as possible in 7 minutes.
4 dumbbell burpee clusters (Advanced: 30lbs, Intermediate*: 20lbs, Novice: 15lbs)
8 kettlebell swings (Advanced: 53lbs, Intermediate*: 35lbs, Novice: 26lbs)
12 box step ups (Advanced: 24″, Intermediate*: 20″, Novice: 12″)
*Women's "As Prescribed" weights and reps (Rx)
Scaling Guide:  3 – 5 rounds
Coaching Tips: The dumbbell burpee cluster: 1 burpee (chest on ground between the dbs), into a deadlift (stand all the way up, with hips and knees fully extended), 1 hang squat clean (hinge back down and clean weights to the shoulders, catching in a squat), into a thruster (drive up out of the squat, and as your hips hit extension drive the dumbbells off your shoulders to a locked out overhead position). = 1 rep.
Log your results online by clicking here.
Compare To:  New Workout!
---
Optional 'Cash Out': 4 minute row.