141215 Tuesday – "Captain's Quarters"
Superman giving Adam Wells a lesson on deadlifts.
---
Mobility:  Shoulder Mobility.
---
Skill Practice Warm Up:  None.
---
Workout: Front Box Squat
6 x 2 (6 sets of 2 reps "across," the same weight for all sets)
This is the 8th session of the Front Box Squat cycle, try and use the same weights from last Monday or Thursday.
Super Set: Perfect Ring Push Ups
5 – 10 reps in between each of your 6 sets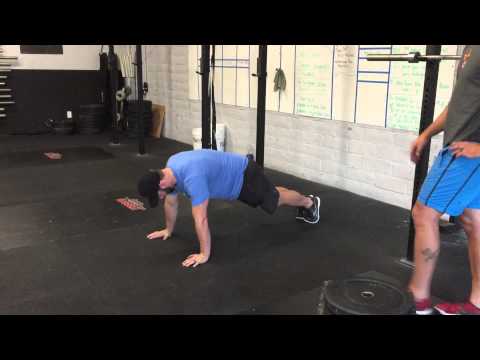 Ring push ups for everyone.
---
Metabolic Conditioning Workout:  "Captain's Quarters"
In 10 minutes row as far as possible. Starting when the clock starts (at time 0:00), do 6 handstand push ups (see below for scaling) every 2 minutes (at minute 0, 2, 4, 6, & 8). Get back to your rower and get as many more meters as possible before the next 2 minute interval.
If you "miss" a round because you are failing on HSPUs, just complete 6 total reps for those two rounds (or scale down!)
Advanced: head to floor strict no kipping, Intermediate*: kipping allowed, Novice: dumbbell strict press with combined weight of dbs approximately 1/3 bodyweight
Record total meters covered.
Scaling Guide:  1100m – 2500m
*Women's "As Prescribed" weights and reps (Rx)
Coaching Tips: Break up the HSPU early on if you know that you'll end up going to failure.  If you start missing reps because you are coming off of the wall, or just don't have enough stamina, you are better off doing singles and 'skipping' a round, getting back the rower quickly… rather than doing missing multiple reps and getting stuck.
Log your results online by clicking here.
Compare To:  2013 – 12 – 19
---
Row'd Royalty was born in 2012 at Diablo CrossFit in Pleasant Hill, California. Several athletes claimed to be the "best rower in the gym" and were eager to prove themselves. All members were encouraged to participate, even if only for fun. The response was incredible, and everyone had a blast – because anyone can row!
This year, Diablo is opening Row'd Royalty to the whole CrossFit community. Let's find out who the best rowers are in our affiliates and in our community! Each week, Starting January 7th, for 4 weeks a rowing workout will be announced. You'll have 5 days to complete the workout and submit your score. Video submission may be required for Top 5 scores.
Check out the website HERE. And register HERE