141219 Friday – Inner Gym ThrowDown Tonight
The Inner Gym Throwdown is Friday at 6:00 pm and we want everyone to show up. This 'Competition' is more about fun and hanging out with your Diablo Family than it is about working out. Feel free to go to class earlier in the day then come back for the fun festivities at night. If you can't wait to find out what the events are take a look at this video below. 
---
Mobility:  Hip Mobility.
---
Skill Practice Warm Up:  None.
---
Workout:  Front Box Squat
5 x 3 (5 sets of 3 reps "across," the same weight for all sets)
This is the 9th session of the Front Box Squat cycle, try and use the same weights from last Monday or Friday.
Super Set: Perfect Ring Push Ups
5 – 10 reps in between each of your 5 sets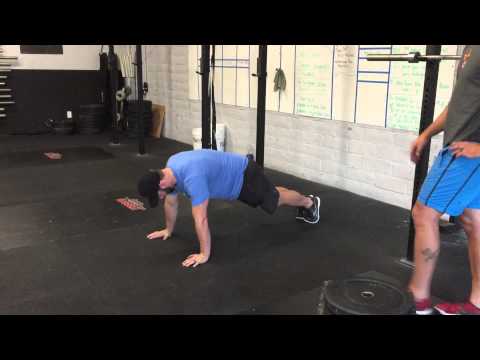 ---
Metabolic Conditioning Workout:  "Suspension Of Disbelief " – As many rounds as possible in 8 minutes.
Row (Performance: 250m, Athletic*: 200m, Health: 150m)
40′ overhead plate lunge (Advanced: 45lbs, Intermediate*: 25lbs, Novice: 15lbs)
15 kipping pull ups
*Women's "As Prescribed" weights and reps (Rx)
Scaling Guide:  2 – 5 rounds
Log your results online by clicking here.
Compare To:  New Workout!
---
Optional 'Cash Out': 1min max wallball, 100m db farmer carry, 15 wallball
If you find yourself doing more than one or two cash outs a week its time to talk to a coach. They can help you choose the right weights and scale movements so you can hit the proper intensity, making these cash out unnecessary post workout.