141227 Saturday – "The Returns Line"
 Mobility:  Hip Mobility.
---
Skill Practice Warm Up: None
---
Strength Workout: Front Box Squat 6 x 3 (6 sets of 3 reps "across," the same weight for all sets)
This is the 12th session of the Front Box Squat cycle, week 4, stick to the same weight you used on Wednesday or Monday.
Super Set: Perfect Ring Dips
4 -6 reps for 6 sets, if these are too easy pause at the bottom for 3 seconds on each rep.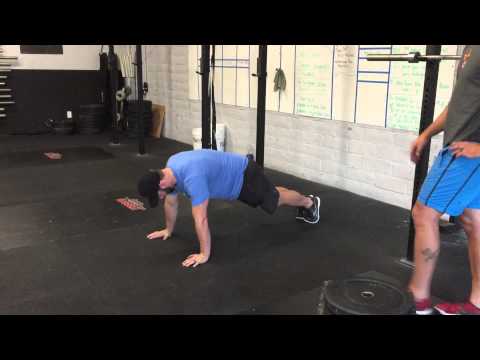 ---
Metabolic Conditioning Workout: "The Returns Line" – As many rounds as possible in 6 minutes.
Two hand dumbbell ground to overhead (Performance: 45lbs, Athletic*: 25lbs, Health: 15lbs)
Dumbbell farmer carry 80' (same)
Each round, add one rep to the DB GTO (but only do 1 farmer carry).
*Women's "As Prescribed" weights and reps (Rx)
Scaling Guide:  4 – 9 rounds.
Coaching Tips: Be sure to keep your back flat when doing the DB ground to Overhead.  Do not give up the lumbar when you start to get tired. Slow down and do it right.
Log your results online by clicking here.
Compare To:  13 – 12 – 27
---
 Optional "Cash Out": Rest at least 2 minutes after the MetCon then 1 Minute of Wall Balls followed by a 200m run with that ball.
---
We hope you join us at Diablo CrossFit's annual Holiday Partaay! Let's kick off the new year and celebrate the old with all your friends.  Need another reason to celebrate with us? Dry Caveman starts January 4th!
Location: 1515 Restaurant & Lounge, Downtown Walnut Creek  (Parking is limited near restaurant. Plan ahead or take a taxi/ uber to get home safely)  
Attire: No Holiday Theme this year. Think dressy/casual – please no flip flops, hats, sports jerseys, knee sleeves, or weight belts. 
Food & Drink: We will be supplying heavy appetizers and 2 drink tickets for "well" drinks or beer.
There will be NO tickets sold at the door this year. Please buy no later than Friday, January 2nd.
What your ticket gets you:
Private Party with all your friends
Yummy food and drinks
A night to let loose outside of the gym!
If you have questions: please email christy@diablocrossfit.com