160324 Thursday – Open 16.5 Announcement tonight at 4:45
We will be setting up the projector in the yoga room for the Open Announcement. The PreShow starts at 4:45. Grab a mobility ball and join us.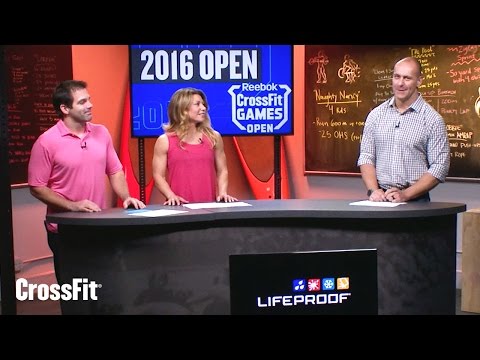 Mobility: Shoulder (playlist video here) & Hip (playlist video here)
Skill Practice Warm Up: Spend 8 min working on strict handstand push-ups (or HSPU progressions). The focus here should be sets of 3 going as deep as possible.
Strength: 1-1-1-1-1-1-1 Front Squat (7 sets of 1 rep, increasing weight to hit max/new max on your last single)
Super Set: none
Metabolic Conditioning: ""
7 minute AMRAP (as many rounds as possible)
12 American KB swings (Performance: 53lb / Athletic*: 35lb / Health: 26lb)
40′ bear crawl
Strict chin ups (Performance: 6 / Athletic*: 3 / Health: 3 ring row)
*Women's "As Prescribed" weights and reps (Rx)
Scaling Guide: 3 – 7 rounds
Log your results online by clicking here.
Compare to: December 7, 2015
Coaching Tips: Be careful not to hyper extend the lumbar on the kettlebell swings. This will be hard for people with tight shoulders, and it will only get more difficult after a round or two of bear crawls and pull-ups. Break the kettlebell swings up if needed. The bottom of the pull-up will be hard for some people, but this is a case where we need everyone to really hit full extension at the bottom. Some extra mobility between sets of the lift should help.
Optional 'Cash Out': 4 min max calorie row or airdyne/assault bike