160531 Tuesday
Barbell Warm up: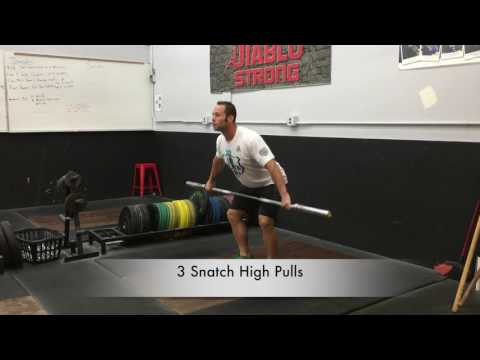 2 Sets of – 3 Snatch Pulls, 3 Snatch High Pulls, 3 Muscle Snatches, 3 Behind the neck presses, 3 Overhead Squats (15 total reps with a barbell)
Grease the Groove: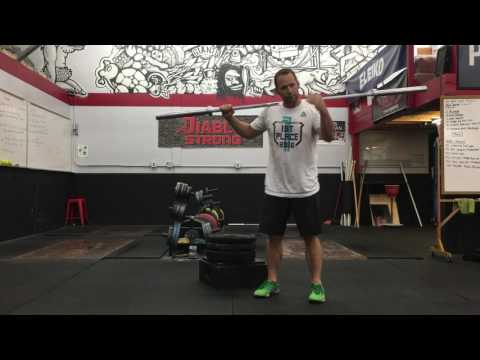 4 sets of 3 Sots presses with increasing weight, only if you are able to press a good position. Otherwise work with an empty bar.
*Sots Press Progression with a PVC or Training Bar only: Overhead Box Squat (work on increasing depth)/ Squat to box with bar behind the neck – Press bar out over head – Recover to standing over head- Lower bar back to behind the neck and repeat (Main focus of this progression is to get off the box with an empty bar.  DO NOT ADD WEIGHT if you are working the progression.
Diablo Strong: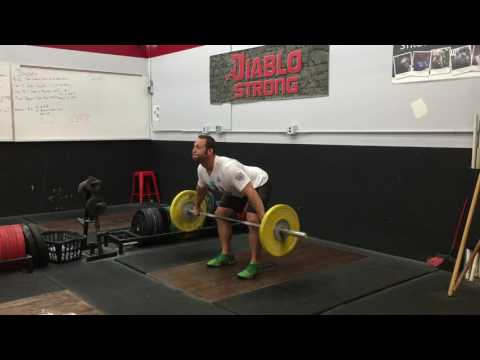 4 sets of 1  @ 65-70% Snatch Pull Complex (3 Second pull to the Knees + 2 Seconds at the knees, return bar to the ground, then repeat this sequence to finish with a full snatch) 
Workout: 7 Minute AMRAP 
10 KBS (26/35/53/70)
10 Box Jump Step Downs (12/20/24)
10 Toes to Bar
---
Diablo F!T
Fight Gone Bad (1 min on 1 min off each movement for a total of 3 rounds)  
Step up

Bike

Sit up (Toes to Bar)

Row
*Start at any station, and follow the rotations in this order.
---
Beyond the Whiteboard App
Its Free with your membership. Log your workouts and track your progress.