160225 Thursday – Open 16.1 Announcement tonight at 4:45
We will be setting up the projector in the yoga room for the Open Announcement. The PreShow starts at 4:45. Grab a mobility ball and join us.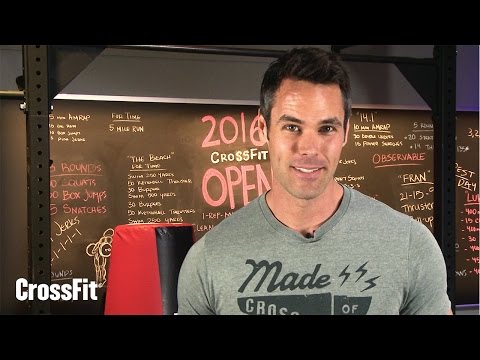 Mobility: Ankles
Skill Practice Warm Up:  Pick one then spend 10 minutes working on – Pull Ups, Toes to Bar, or Double Unders
Strength: none
Super Set: none
Metabolic Conditioning: "Dirty Thirty" For time
30 Box jumps (Performance: 24", Athletic*:20", Health:12")
30 Jumping pull-ups
30 Kettlebell swings  (Performance: 35lbs, Athletic*: 26lbs, Health: 18lbs)
30 Walking Lunge steps
30 Knees to elbows
30 Push press  (Performance*: 45lbs, Athletic: 33lbs, Health: 20lbs)
30 Hip extensions
30 Wall balls (Performance: 20lb/10ft, Athletic*:14lb/9ft , Health: 10lb/8ft)
30 Burpees
30 Double unders
*Women's "As Prescribed" weights and reps (Rx)
Scaling Guide: 24 minute cutoff, scale accordingly
Do NOT do the Filthy Fifty! We will not be giving classes enough time to go through it and the D3o is a totally different workout. Since the reps are almost half of the 50 you need to keep the intensity high and move though each movement quickly.
Log your results online by clicking here.
Compare to: January 7, 2016
Coaching Tips: Just keep moving. You are better off doing smaller sets with shorter rests (rather than doing a big set with long rest, or a big set then down to singles). Most people can move through the movements at a good pace to get winded, but the knees to elbows are a big sticking point. Plan on going hard on the other movements and then pacing out the k2e into very small sets in the beginning so that you catch your breath (almost like active recovery right in the middle). After the knees to elbows are done, hit it hard again.
Remember that the wall balls, burpees and double unders must be completed at the end, in the written order (because it is more difficult that way).  Crank through the wall balls at a pace that will let you get right into the burpees. Do slower burpees if needed, but try not to break these up too much.  Just fall down and get up (over and over again).
Optional 'Cash Out': none