Friday August 5th 2016 – The Shed
Breaking down August & Septembers Strength Focus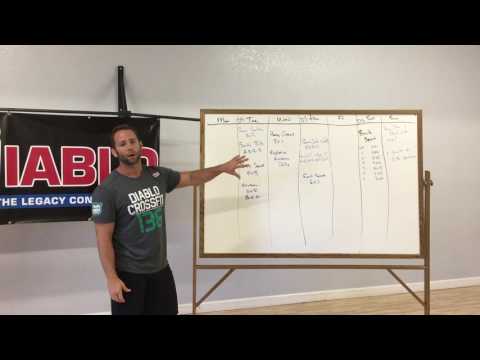 Mobility: Ankle (Roll out Calves & Peroneus)
Stability Warm/ Skill: 2 Rounds not for time of
5 Kettlebell Windmills (Low, high and both)

Ring Push Ups
Workout: "The Shed" For Time

Rope Climbs (Rope Laydowns/ 2 Rope Climbs/ 3 Rope Climbs)

Row 600m

30 Overhead Squats (45/65/95) 

600m Run

30′ right arm, 30′ left arm dumbbell overhead walking lunge  (15/25/45)

16 Handstand Push Ups 

30 Box Jumps *Step down advised (12/20/24)

60 Kettlebell swings (18/26/35)
Scaling Guide: 25 minute cutoff. It would be wise to scale it so that you plan on finishing around 18-22 minutes.
Coaching Tips: Don't go too hard on the row if those overhead squats look daunting. Go ahead and run hard since the lunges are not too technical (and you will catch your wind on the lunges and HSPU). Be careful with the kettlebell swings – 60 is no joke! Break them up into smaller sets, and be sure to keep that chest up!
Compare to: March 1st, 2016
Competition Programming: 1000m Row, 75/115 OHS, Strict HSPU, 50 Box Jumps, 35/53 KB Swings.
---
Diablo F!T: 3 Rounds of an Alternating E2MOM of
E2MOM A:
Row 200-300

Rope Lay Down (Climb)
E2MOM B:
E2MOM C:
10-20 Push ups

10-20 KB Swings
---
RomWOD & Skills: Sit Up > GHD Sit Up > Toes 2 Bar > Strict Toes 2 Bar
---
Download our Mobile App – Sign up for Classes, Clinics, Check the Daily Workout, & More.
Thank You to Our Team Sponsors!
---
Log your workout HERE.
Beyond the Whiteboard App
Its Free with your membership. Log your workouts and track your progress.
---
Live Video – Behind the Scenes: Periscope – https://www.periscope.tv/diablocrossfit
'Official' Facebook Page – https://www.facebook.com/DiabloCrossFit/
Diablo Community Group – https://www.facebook.com/groups/105109166278305/ (Members Only)
Instagram – https://www.instagram.com/diablocrossfit/