Monday July 11th 2016
Mobility: Quad Roll out Session, Shoulder Mobility & Hip Banded Distraction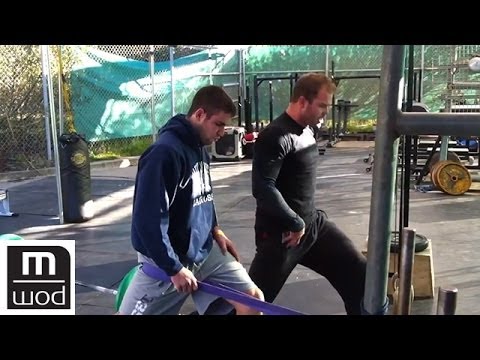 Warm up Skill: Kipping Practice Toes to bar Practice
8-12 dead hang and retract the scapula keeping the feet in front of the body

6-10 Kipping Swings

4-8 Kipping Swings with a knee tuck (Try to look behind the bar)

2-3 sets of 2-4 Kipping Swings with a knee tuck then snap the toes to the Bar (AKA: Toes to bar)
Workout: For Time:
900/1000m Row

20 Shoulder to Overhead (45/75/115)
20 Toes 2 Bar (30 Sit ups)
20 KB Swings (26/35/53)
400/500m Row
10 Shoulder to Overhead
10 Toes to Bar (15 Sit ups)
10 KB Swings
Scaling Guide: 15-24 minutes (25 Minute Time Cap)
Competition Programing: Barbell 95/135, KB 53/70
---
Diablo F!T
EMOM + E3MOM
Start with a 10 Minute EMOM of:
5 DB Push Press (Challenging weight) *Hold every rep at the locked out position for 1 second

6 KB SDHP

10 Sit ups or 8 T2B.  (If you can't finish a round within the minute, 30 Second Plank)  
Rest till minute 11 Then
Every 3 minutes for 3 rounds complete:
400/500/600m Row Max (Rest between each row)
---
RomWOD & Skills: This week's skill is L Sits & L Pull Ups
---
Log your workout HERE.
Beyond the Whiteboard App
Its Free with your membership. Log your workouts and track your progress.