Saturday June 18th 2016
Mobility: Shoulder
Barbell Warm up: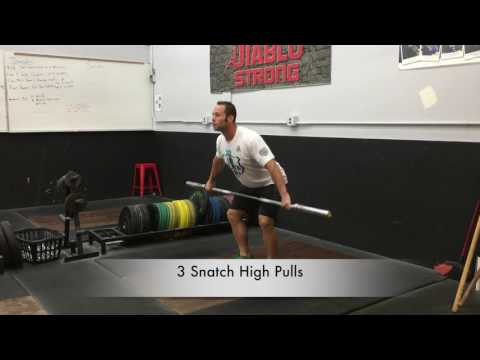 2 Sets of –
3 Snatch Pulls

3 Snatch High Pulls

3 Muscle Snatches

3 Behind the Neck Presses

3 Overhead Squats
15 total reps with a barbell
Skill Warm Up: 2 Rounds of
3 Power Snatch from the hip
3 Power Snatch from the knee (Squat below parallel if you can or go as low as you can with your chest up).
6 total reps with a barbell
Diablo Strong: Snatch 4 sets of 1 rep @ 70-80%
Accessory Lift: Snatch Grip DL 3 sets of 5 @ 85-95% of Snatch 1RM
*Do not go to the heavy side of the Percentage if you can't hold a good position on the first pull from the ground.
Workout: 8 Minute AMRAP of
3, 6, 9, etc. Push Press (45/75/115)
3, 6, 9, etc. Pull ups (Ring Rows/ Kipping pull ups/ Chest to Bar Pull-ups) *Chose a modification that is challenging, but won't push you to failure in the first 3 rounds.
30 Double unders
Coaching Tips: Move quick in the early rounds by running from your barbell to your pull up bar then to your jump rope during the 3, 6, and 9s, and further if you can. Don't waste time on the transitions in the later rounds get a few reps in and rest in the middle of the movement instead of in between stations.
---
Diablo Fit E4MOM x 4 rounds 1 Minute rest between rounds. (20 Minutes Total)
Start with a 400m Run
Buy in with Run 400m

15 DB Push Press

10-15 Pull ups

1 Minute Rest.
* Max Alternating Leg V-Ups with the remainder of the 4 minutes of work. Rest 1 Minute and complete 3 more rounds.
---
Log your workout HERE.
Beyond the Whiteboard App
Its Free with your membership. Log your workouts and track your progress.