Tuesday August 9th 2016
Mobility: 5 Minutes of Shoulder work
Barbell Warmup: Snatch Range of Motion Warm Up. 
2 Rounds
3 Snatch Pull

3 Snatch High Pull

3 Muscle Snatch

3 Behind the Neck Press

3 Overhead Squat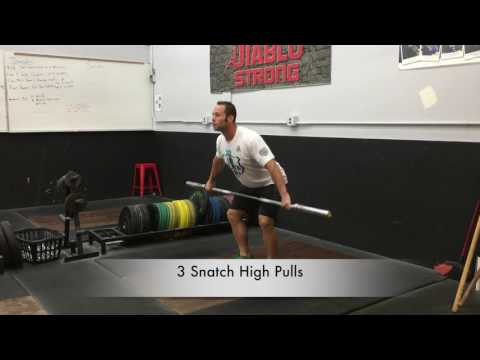 Snatch Skill Warm Up:
2 Rounds
3 Power Snatch from the Hip "High Hang"

3 Power Snatch from the Knees "Low Hang" then add a squat

3 Snatch Balance
*You may add LIGHT weight to the bar, in the second round.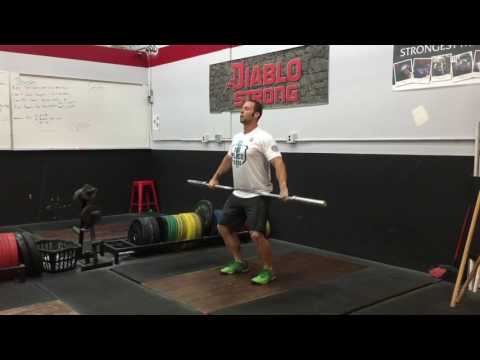 Diablo Strong: 3 sets of 3 Power Snatches @ 60 – 65%
Diablo Strong: Snatch Pull 3 – 3 – 3 – 3 working up to around 80-90% of your max snatch. To do these, extend your hips, knees and ankles, and shrug your shoulders, but your elbows should not bend.  Also Make sure you are jumping the bar vertical vs kicking it out in front. The Bar should never be moving away from the body.
Workout: 3 Rounds for time of:

5 Overhead Squats (45/85/135)

10 Box Jumps (12/20/24)

15 Toes to Bar (Sit Ups)
Scaling Guide:  5 – 8 Minutes
Competition Programming: OHS 105/155, Box 24/30.
---
Diablo F!T: EMOM for 10 Minutes

5 Goblet Squat

5 Box Jump

10 Sit Ups or T2B
*If you can't complete a round in the minute, hold a 30 Second Plank on the next round. Then continue with the EMOM.

Rest 1 Minute after the 10th round.  
Then: 
Run 400/200m every 3 Minutes for 3 Rounds. Try to have each run be faster than the last. For the first round Everyone runs the first 400m, then may scale down for round 2 and 3.
---
RomWOD & Skills: Banded Push Up > Ring Push Up > Handstand Push Up
---
Download our Mobile App – Sign up for Classes, Clinics, Check the Daily Workout, & More.
Thank You to Our Team Sponsors!
---
Log your workout HERE.
Beyond the Whiteboard App
Its Free with your membership. Log your workouts and track your progress.
---
Live Video – Behind the Scenes: Periscope – https://www.periscope.tv/diablocrossfit
'Official' Facebook Page – https://www.facebook.com/DiabloCrossFit/
Diablo Community Group – https://www.facebook.com/groups/105109166278305/ (Members Only)
Instagram – https://www.instagram.com/diablocrossfit/