Wednesday June 8th 2016
Mobility: LAX Upper Thoracic
Grease the Groove: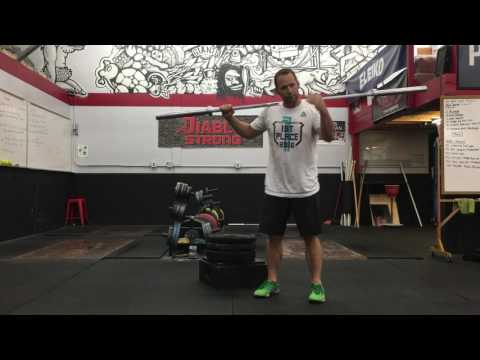 *If you are working with the Box Progression, do not use anything heavier than a training bar.
Sots Press – 4 sets of 3reps
Diablo Strong Skills:  4 sets of Hang Power Snatch (Position 1) + Snatch Balance (2+1) @50-60% of your 1 Rep Max Snatch
*Focus on your speed and under the bar.  Do not rush your recovery of the over head squat from the snatch balance.  Stay strong and upright in your torso while the weight pushes you into the squat.
Workout:  For time:
10-8-6-4-2 Hand Stand Push Ups (DB Press/ Abmat HSPU)

10 Sit ups (Toes to Bar)

10 KB Swings (26/35/53)
*This is not going to be a good WOD to learn your Kipping HSPU.  If you are not efficient with a kip, Use strict with an abmat or modify the reps to 5-4-3-2-1 on the Hand Stand Push Ups if you can go strict from the ground.
---
Diablo F!T
Alternating E3MOM: 3 Rounds of alternating A & B *Total time 18 minutes

E3MOM A:

Row (200/250/300)

15 Sit Ups or 10 Toes to Bar

8 Burpees



E3MOM B:

400/200m Run

15 KB Swings

8 Burpees
*Athletes may choose which E3MOM they want to start at.